Our Key Solution Benefits
Fast turn-around times, usually 1-2 days.
Personal and friendly service.
Strict confidentiality - your data is private.
Up front pricing - no surprises.
Excellent work, done right the first time.
Competitive pricing
All major credit cards accepted
Knowledge Base
Does your computer need service?
We know it's often hard to figure out if your computer is in need of repair. We make it easy. Just bring it by for a free checkup. We'll perform some quick tests to give you more information.
The Right Solution For You
Not all computers are the same, and certainly not all customers are the same. We listen to you first and foremost so that we can provide a solution for YOUR problems.
Our Company At A Glance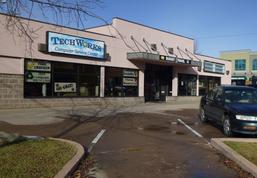 Techworks Computer Service Center
Here at Techworks Computer Service Center, we are dedicated to you and all your different computer repair needs.
We look forward to working with you and earning your business! If you have any questions please give us a call or send us a message.

More Benefits You Will Enjoy
Convenient location
Fast service
Affordable Prices
Professional Work
Free Checkups and Estimates
Clear pricing
Confidentiality
Honesty and Respect
Custom Solutions
Plain English explanations
Free Coffee